Cynthia - Goa's first Horror movie
Backstage  Talkies  with  Elvis Kahn Fernandes  the conceptualizer  of Goa's first Horror movie - Cynthia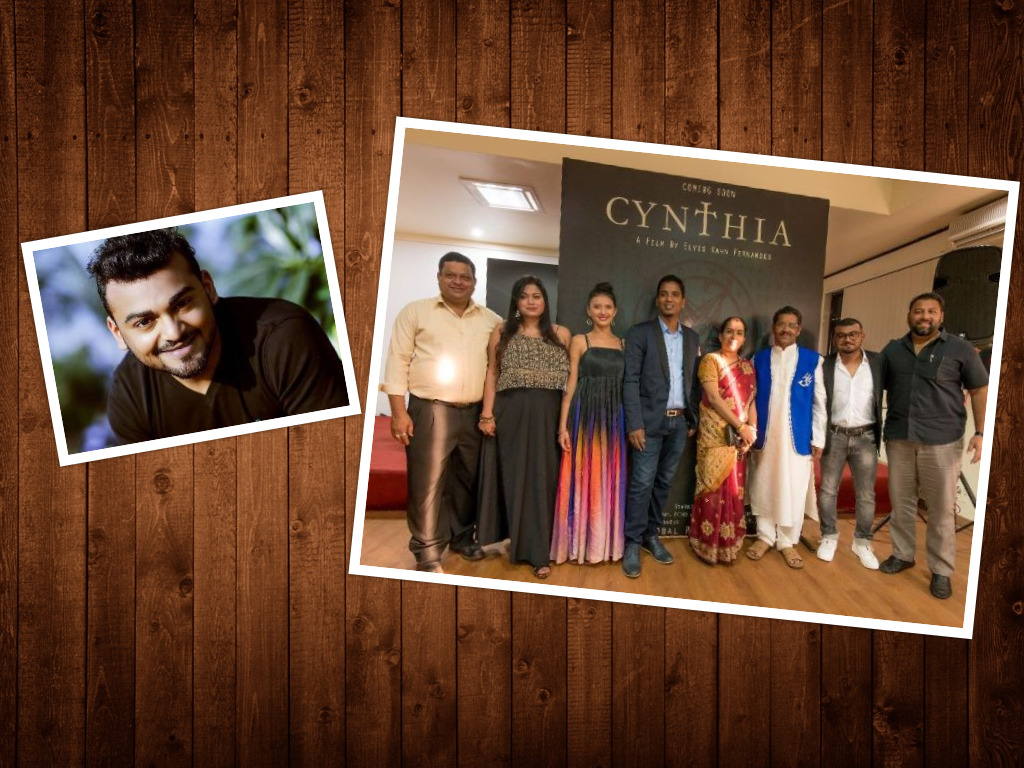 A short intro of yourself in terms of your work profile.
I been associated in the Indian Film industry for the last 12 to 13 years . Having  graduated from St Xaviers  College Mapusa and then, moved over to Mumbai to peruse a career in Music and Films. I have  also been featured as a VH1 artist for a long time, having  composed and produced my own music . My past I have worked as  assistant director, dialogue writer, screen play writer, lyrics writer, music director and free lanced for the Indian  film industry for a very long time with a great link up of big brands in the Bollywood industry.
Your base down in Goa.
Well I am based In Mapusa Korlim Goa. A place I call "Home".
What made you get into the profession of Film making.
Got into this industry  mainly for the love of it, plus the enthusiasm of watching films. The first time I was on a professional film shoot was when I was 17 years old, the excitement was just over whelming in watching the technicians, actors working along as one unit to put up something beautiful on screen. The moment I decided I wanted to be in the film industry, I knew I had to move over  to Mumbai to get work done out there. I have also been in the theater  industry, and a great of that inspiration comes from my  mother, as she's  been  a "actress" herself  in the Konkani theater  for a very long time, having performed in various countries, that's  what inspired me to get  onstage as a singer & dancer giving me all the confidence to face the camera  and be "behind it" as well.
 A short brief of your current project  Cynthia.
Well its Goa's first "Horror" film, which also makes it the World's first Konkani horror film ,wherein  this genre has never been attempted before in the Konkani film industry and have plans to release it in Goa and internationally as well.
What inspired you to come up with this Film.
Since I was launching my production company which is Goa Global productions , we wanted to be first out there doing  something and  have a unique USP to be there in the market ,where people can listen, hear or read about us and they are instantly attracted to the concepts we have available to them, so having a horror film out there is something  that attracts a lot of attention,so we proceeded with the same intention of getting the maximum buzz all over.
 The greatest support you have received so far  in having this project completed.
My biggest support  has to be my financer and producer Mr. Joseph M Lobo, he has been the backbone of the entire project, and the  one because of whom the entire project took shape, if it wasn't for his financial assistance  and belief in me, this concept wouldn't have materialized. You could have all the talent and all the skill in the world  but it's useless if you don't have anyone giving you a stage or you don't have a stage to highlight your talent to people. I thank Mr. Joseph on record  for being the producer and financer and supporting me to accomplish  my dream and vision.
What were the kind  of challenges faced while working on this project .
Well in the Konkani film industry the resourses  that we have is relatively limited  at our disposal, so there was a lot of technical  aspects that had to be outsourced and got, which added to increase of cost, keeping in mind that I had to make a movie of certain standard and professionalism  for which I needed to hire technicians which don't come easy and come with a cost, so considering the Konkani film industry being a baby industry, we had restrictions in terms of budgets and resources ,so over coming all that, and making a product which is "worth watching" in a cinema hall after you spend on expensive tickets that are there, was our intention. Hope we have done justice, and the audience appreciates it.
What's the time/effort  that's  gone through in making this movie.
Well before we could start this project , I came up with the concept, wrote the script and then had to look into the casting, as the casting took a long time as we  were on the lookout  for the right characters for the film. The film has renowned actors  from the Konkani film fraternity mainly Gauri  Kamat, Prince Jacob, Kunal Malakar and our lead actress Maya Kalsi. It was great to have all of these renowned and established actors in the film, bringing in their own kind of expertise to the entire project. My work in the movie Cynthia is multi dimensional ranging from the concept, story, dialogue, pre-production work          ( casting & recce) of the film, worked on the music direction, handled the post production as well,since I am also the producer. The movie also has me as the male lead actor, where our search for a male lead actor didn't get us much results, as the character demanded  a very subtle approach opposite to the character Cynthia, with time constrains  I decided to play the role and it served me well.
How have the facilities been and what more is needed to be done to encourage Konkani movies like yours in Goa.
There is lot more needs to be looked into, to make Konkani cinema a prominent name in the film industry of the country. As we know  that the Bollywood industry is a thriving industry, but it took a long time for it to be where it is today because of the  efforts put in by a lot of people, to make it what it is,  whereas same goes with the South Indian film industry. We do have grants and provisions  given  by the government for making Konkani cinema, but yes these provisions are quite not enough for making Konkani cinema  "prosper". A lot could be offered in terms of distribution of films as we have very few theaters that screen Konkani movies, wherein the cost of screening are high and primetime slots  is a big issue, which add to the constrain for the producers. We want the Goan audience to go to a theater and enjoy a Konkani movie , but that is possible only if the distributions is readily available so as to go and watch the film. Since we are putting all effort to get the best, in terms of quality so that our movies can be at par with the best in business, a certain amount of budget subsides could be allocated to anybody coming forward to make a Konkani film with very minimalistic SOPs, that would be a big  support by the government to the film makers, there could  also be a sort  of structure put up where the entire project selected is funded by the government, which would be  a boon to film makers down here in Goa.
Lasting memories in terms of this movie that you would like to share with our readers.
This being my first film in Konkani cinema was really special to me. Having a tight schedule, we had to have the synergy of a "good team", which made us feel more like "family"  there by  creating  bonds,  just not onscreen but off-screen as well.
Future projects.
I have already worked on  a lot more scripts, and waiting to collaborate with the right kind of financers, those based in Goa or Abroad and showcase  what Goan cinema is all about!  .